Amazonia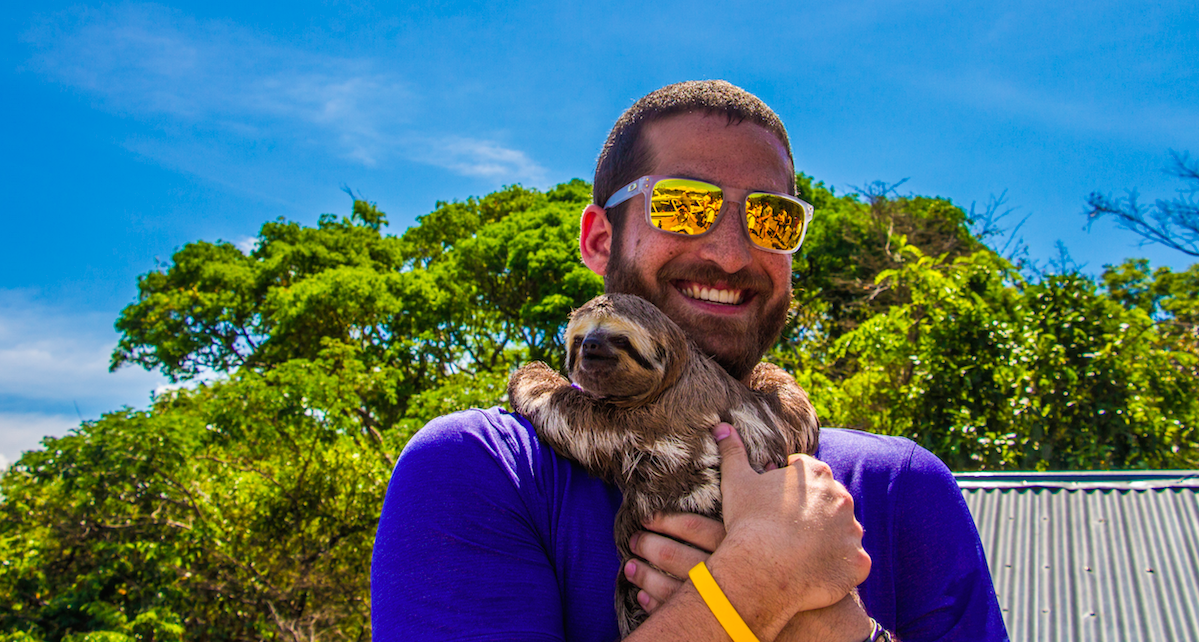 Wheels up. The Amazon River shrinks below me as the plane ascends into the atmosphere. Led Zeppelin blasts on my headphones as I head toward the coast. The Yanks have completed the second leg of their group stage as we brace for World War III — USA. Germany. Recife. June 26th. What a three days it has been. I arrived in Manaus not knowing what to expect. It was around midnight, and I could already feel the climate difference as the humidity was about 100 percent higher than it was in Rio. In my mind (and in the articles I've read), I expected this tiny town on the banks of the Amazon River that had no business hosting a World Cup stage. To be fair, it is a travesty that Brazil spent hundreds of millions of dollars building a world-class stadium in a city that doesn't have a soccer team. That being said, I could not have been more wrong in my assumption that Manaus didn't deserve a World Cup venue because the city is stellar.
On the first night, my good friend from grad school — John Fitzgerald — and his friend from high school — Dustin Cherry — came by the airport to pick me up. We were renting an apartment/guest-house-sorta-thing outside of town that was apparently too difficult to explain how to get to, so they were great friends and came and picked me up.
In Natal, the site of USA v. Ghana, these two jokers had picked up another friend — Annie — who they convinced to book a last minute flight to Manaus to see the USA v. Portugal game, which she did. So she got in about an hour after me, and we all jumped in a cab to our digs.
We walked in the door to find a construction zone. When the owner is actually finished renovating the guesthouse, it's going to be beautiful with a living room and kitchenette and a bedroom with a queen bed and two twins. Now, however, it was literally a concrete room with building supplies all over the place. The living room and kitchen had no appliances, no seating, no nothing. As it turns out, that didn't matter: we were so far outside town we only went there to sleep. The bedroom was fantastic, though, because I had my own twin bed that wasn't part of a bunk bed. Most importantly, though, for the first time 39 days, I was able to sleep in a room with air conditioning. In Rio that wasn't that big of a deal so long as I had a ceiling fan because it's not that hot at night. In Manaus, you couldn't survive without A/C. Moreover, for the first time in 39 days, I could take a hot shower. Here in Brazil, no one has a hot water heater. Everyone has electronic showerheads that "heat" the water as it runs through the showerhead. The guesthouse in Manaus sported the first such contraption that actually worked well enough to produce hot water. It worked so well in fact that when you turned the heat all the way up, the light bulb in the bathroom dimmed to about half power. But I digress…On night one, we simply crashed to prepare for the next day.
On Saturday, we woke up relatively early (8:00am ish) because we wanted to see the meeting of the rivers before watching Germany v. Ghana at 2:00pm. We made our way down to Port Caesar and hired a crew for a three-hour tour of the Amazon including the meeting of the rivers. For anyone that doesn't know, in Manaus there are two rivers that meet but never cross. They are different temperatures and run through different soil along their way toward one another, so they are completely different shades of brown. It's not a clean line between the two, but you can see the intersection clear as day. It's truly a sight to behold. I took hundreds of photos of it, but it was difficult to capture just how stark the difference is from a moving boat that isn't very high above the water.
In the middle of our boat journey on the Amazon, we stopped at this floating shop that sold all sorts of Amazonian trinkets (as well as beer), and afforded us the opportunity to fish for river monsters.
When I say river monsters, I mean that in the literal sense of the word. The owners of this floating business had a net that sank deep into the river that chock full of monstrous fish. These bastards were three-plus feet long and looked like they weighed 50-plus pounds. They look mean as hell and eat one-pound fish in a single gulp — no problem. John, Dustin and Annie all took turns dropping their line into the pen for the ensuing fight with the monsters. The monsters always won eventually, but sometimes they could get a good fight (calm down PETA, the bait wasn't set with a hook but rather by tying rope around the bait so the fish aren't harmed while feeding.
From there, we got back into our boat for a leisurely cruise along the river. We got to see the giant lilies (also got some photos) that are no kidding four feet across. There was a clearing with 20 or so lilies and there were some beautiful birds doing a mating dance back and forth on top of the plants. I felt like I was a videographer for National Geographic all of a sudden; I'm in the Amazon, filming giant lilies and bear witness to a mating dance of exotic, indigenous birds atop said lilies… was this real?
The answer was no, because next came the highlight of the trip — I got to hold a baby sloth. After cruising for 15 minutes or so after the lilies, we arrived at this floating dock that is clearly there for tourists, but I didn't care. There was a cayman, a snake of some kind and a sloth for tourists to hold and pose with. The cayman was pretty cool mostly because its skin felt far different than I would have expected — it was softer, drier and suppler than I had imagined. Then came the cutest thing on God's green earth — a baby sloth.
All four of us took turns holding the little guy. He looked like he had a perpetual smile plastered on his face while his eyes were always half opened as if he was stoned (which is how I imagine sloths typically look but I really have no idea). He was a little nugget of cuteness and his body was far more bottom-heavy than I anticipated. When you held him to your chest with him facing you, he would reach up for your shoulders or neck so he could hug you (I assume it was more just to try and not fall backward, but I'm going to claim it as a hug so shut it). The sensation of a baby sloth hugging me filled me with a feeling of unbridled joy and giddiness. I'm sure if you asked Annie, John and Dustin, they would agree.
We took one round of photos but there were tons of people in the background, so we waited around for a few minutes to try and get a second round without all the people fouling up our photo. There was a group of Asian tourists that had their clutches on him and Dustin walked into the middle of the group, boxed some people out and took the sloth back for us. He wasn't aggressive in his handling of the sloth, but his assertiveness in the group of tourists allowed us a second round with the most awesome animal in the Amazon.
After we left the dock and our newest little buddy, it was back to the mainland. We took a couple of buses to the FIFA Fan Fest to watch the Germany v. Ghana game because it had huge implications on our game against Portugal. If Germany had won, a draw would have all but assured us a place in the knockout stage. Now, our draw against Portugal wasn't nearly as definitive in getting us through to the next round. Regardless, it was an excellent game and it was good to learn the ins and outs of the Fan Fest here. It's in an awesome venue — an amphitheater with stadium standing (or sitting depending on how many or few people are there) looking out over the river. For my Little Rock people, it's like a slightly smaller version of the Riverfest Amphitheater except the river behind it is three times as wide (if not even more so). There's also a beach you can go hang out on. That's right, the river is so damn big that there is a full-sized, sandy beach on the shore of it. I'm talking hundreds of meters of ocean-like beaches on a river… just crazy.
After hanging out at the Fan Fest through the Germany game, we caught a bus back into the city center to grab some dinner. We ended up grabbing an excellent bite to eat at a local pizza place just off the main square in the center of the city. Afterward, we walked into the main square to get the night going.
To set the scene, downtown Manaus is arranged in a square around a main plaza that is huge. It's probably a couple hundred meters across the plaza with a giant statue in the middle of it. Much like Rio, people rarely hang out in a bar so much as around bars. The square was packed with people just hanging out, talking, dancing, etc. Everyone would just buy beers from street vendors and keep the party rolling. It was an epic atmosphere and was a good barometer for the fun we would have in this awesome city. After walking into the square, we struck up a conversation with a group of locals that ended up lasting the entire night.
The main guy's name is Cayo (pronounced like "Kai-oh"), and he is from Manaus. But, he spent nine years in the USA to play collegiate rugby for Middle Tennessee State followed by playing for the US National Rugby Team. If you can imagine the exact person you wouldn't want to see coming at you in a rugby game, Cayo is that guy. He was about 6'4", easily weighed 260, had no fat on him and his hands were like a giant's; when we shook hands, they dwarfed mine on a comical scale. He is built like a freaking brick house, but he could not have been more friendly or accommodating. He was there with his fiancé, his buddy Bruno and Bruno's girlfriend. We ended up splitting something like 15 600ml beers between the group (if not more). There was an awesome band playing on our corner of the square, and our new friends couldn't have been cooler. Cayo told us all about the city and the best way to tailgate for our game the next day. It was one of those perfect, low-key nights spent with new friends that just seem to magically happen when you travel to new places.
We ended up calling it a night around 2:00am because Sunday was gameday. We had already started to psyche ourselves out by talking about it too much and we wanted a decent night's sleep before the main event. Still, Manaus had already proven to be an unbelievable city with so much to offer.