No rest for the weary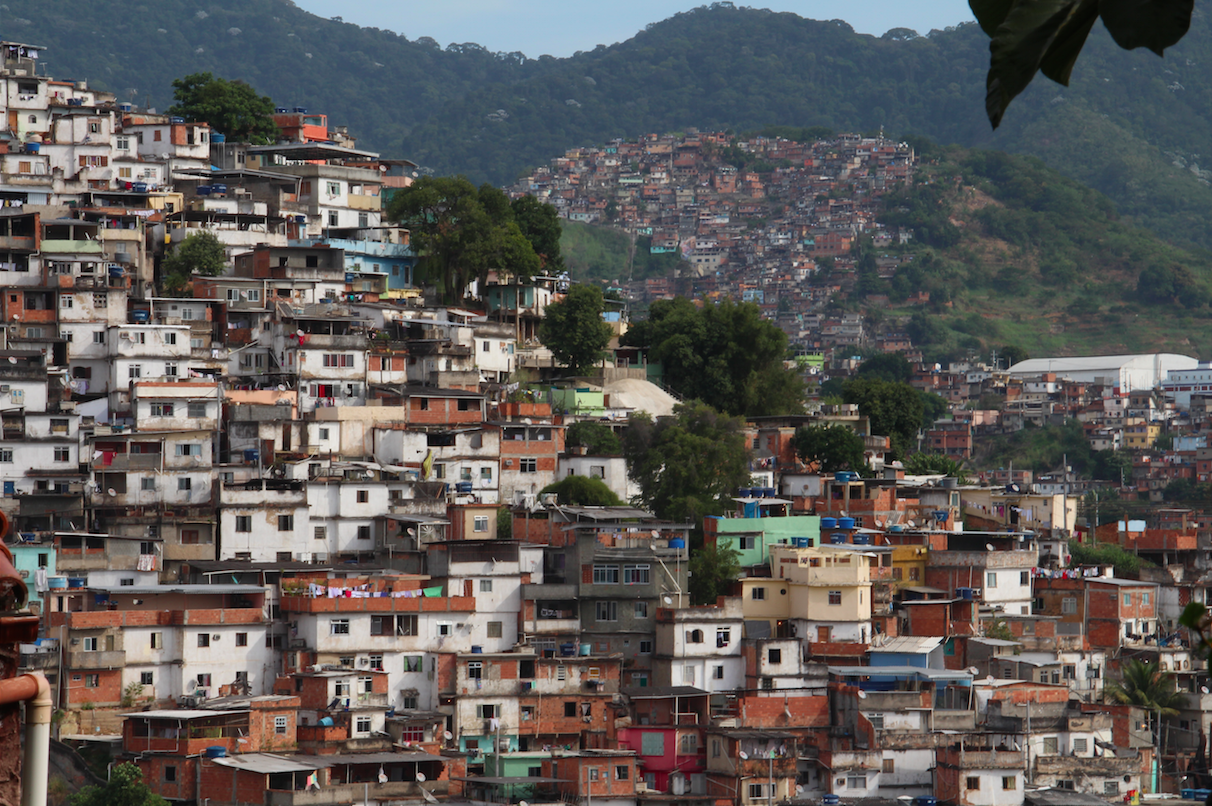 Yesterday was a huge day, both in terms of fun and work. It began with my American friends showing up at my doorstep around noon without prior notice. They were joined by our local friend, David, as well as a new companion Christian who bears a striking resemblance to Bjorn from the TV show Vikings (I just watched both seasons in the last week — totally hooked) probably because he's a Norseman from Denmark. The girls had met Christian at the futbol match they had collectively attended the night before. I showed them the place I currently call home, I got dressed and we headed out the door. The girls were eager to photograph Santa Teresa, specifically the graffiti adorning the walls of many of its buildings. I brought along the big camera because I feel much more comfortable shooting when I know I have people watching my back.
We walked all over Santa Teresa. We went up hills and down hills, strolled along the trolley tracks circling the mountain and even climbed to the top of a gutted-out castle perched atop the summit of the neighborhood. I took some spectacular photos that I plan on sharing once I have an opportunity to hook up with a more reliable Internet connection. Then, we walked all the way to the base of the mountain to photograph the famous Lapa stairs. I thought the staircase at the bottom of my neighborhood was cool, but this was something else entirely.
It is much, much longer than the stairs in my neighborhood. It climbs more than ten landings, then takes a hard right and climbs another three. Instead of being covered by mirrors and broken mosaic pieces, it is decked out wall-to-wall with colorful tiles placed specifically. There are centerpieces with different photos or quotes or cities painted on them that are surrounded and connected by tiles of one color (usually something deep and bright — reds, yellows, greens, orange…).
At the bottom of the stairs we stopped to get some water from a vendor selling drinks out of his cooler. Next to him sat an older man playing the guitar and singing in Portuguese replete with a hat on the ground with tips in it. He was singing The Beatles' Hey Jude in Portuguese, which was interesting to hear. He was doing a pretty good job but people weren't paying that much attention to him, and they weren't dropping money into his hat. The ending of Hey Jude changed all that…
When he got to the "na-na's" at the end of the song, EVERYONE within ear shot started singing along with him. Everyone in my group, all the tourists from around the world, the other street vendors, locals posing for photos, everyone. It was one of those moments that you couldn't hope to script that comes together so beautifully you wonder if it's even real.
Part of me really wished I had my camera and microphone out to record it, but in retrospect, I'm glad I didn't. Sometimes we get so caught up in capturing moments on our cameras that we forget to actually live the damn moment. Instead of remaining silent to let my microphone pick up everyone else singing, I joined in and belted out some na-na's along with Paul McCartney and all the other Beatles lovers there. It was an experience that further solidified my belief that great music transcends language, nationalities or status. From the poor guitar player to rich tourists visiting the world famous steps, everyone experienced that moment thanks to one of the great songs of all time.
After the surreal sing-along, I walked my ass all the way back up the stairs, all the way back up the hill and all the way around the damn mountain to get home. It was a 45-minute walk at a brisk pace and my ass was burning from all the climbing. Many of these streets are well over 15 percent gradients and my legs are starting to feel it.
Anyway, yesterday night was going to be my first opportunity to work with the NINJA. To give you a little bit of a backstory, there was an independent journalist filming the protests last year who was killed by a firecracker. The firecracker was set off, it didn't fly up but rather out and exploded behind the cameraman. The way the NINJA tell the story, the police arrested a young man and charged him with murder, saying he set off the firecracker intentionally. The mainstream media here jumped on the story and essentially asserted the young man's guilt. Many people believe he is guilty precisely because of the way the media portrayed the story.
Last night at the law school in Rio, a group of activists, lawyers, professors, etc. staged a mock trial — the kind the accused party deserved before the media pronounced his guilt. The NINJA wanted my help filming it, which I was more than happy to provide.
Opening remarks were read from the dais and then the lawyers started presenting their respective cases. I had absolutely no idea what anyone was saying, but it was an interesting experience to take part in. There were four or five NINJAs there covering it split into two teams working on different media products. I was part of the documentary team that was turning the entire day of protests and activism into an edited film. I provided my assistance for a few hours but had to leave before the end of the trial because I was running out of battery, and there's only so much filming you can do before losing your mind when you haven't the faintest idea of what anyone is saying.
I left the law school, caught a cab back up the hill and dropped off all my equipment at the house. I offloaded everything onto the external hard drive, made a quick dinner then headed to the crossroads to meet up with the American girls et al.
While there, I met a trio of MBA students from UT-Austin and we had quite the conversation. One of the group, the only woman, lives in Austin and works for Facebook. The reason this conversation is noteworthy, however, is that she went to the same summer camp as me — Camp Ozark.
We immediately bonded over which summer session we went to (I was a third session, she always a fifth) and our respective tribe (we were both Osage). We talked for 15 minutes about how much we loved camp, remembered some of our old tribal cheers… it was hilarious. It's funny how your summer camp memories can be some of your strongest even a decade later.
After hanging with them for a while, I ran into David. We walked down the street to our other favorite bar and ran into some of his friends. I met an interesting Greek woman, Stef, who is an epidemiologist on vacation couch surfing through South America. She introduced me to one of her hosts, Francisco, who is one of the more fascinating individuals I have ever met.
To begin with, he's a director who works for a television channel. That television channel also happens to be pornographic. You read that correctly, he's a Brazilian pornographic TV director.
My immediate thought was that I wanted to do a profile piece on him because a) it'd be really interesting and b) this is right up Vice Media's alley. I could pitch the story to them and maybe get it published. He talked to me about the changing nature of the Brazilian pornographic industry, how there are six different "Playboy" channels that specialize in different types of pornography aimed at different audiences and how his job is far less about filming sex than filming promotional stuff for those sexual videos. It was quite the conversation with the type of director I doubt I'd meet again.
Anyway, there were a lot of people at our table and we had great conversations all night. The band playing in the corner was doing a version of Flamenco with a seven-string guitar and ukulele-looking string instrument along with a percussionist who mostly played the tambourine. The musicians were exceptional. It's rare in America to find talent like this just hanging out in a random bar playing together, but I was ensorcelled. The band played for a while after I arrive, and the night ended when they closed shop. I walked Stef and her friend home before heading back down the street to my place.
The day was full of photography, videography and fun. The Hey Jude moment is one I will never forget. It was great to start working with the NINJA, and I think I earned a lot of credibility with them by helping film the mock trial.  The night was full of new people and crazy connections. The more time I spend here, the more I'm enjoying myself. Tomorrow (now today at time of posting) I'll be spending some time in the NINJA apartment here in Rio, so hopefully I can begin my filming work.
After one week in Rio, I can definitely say this is a helluva city, foibles and all.