Show of force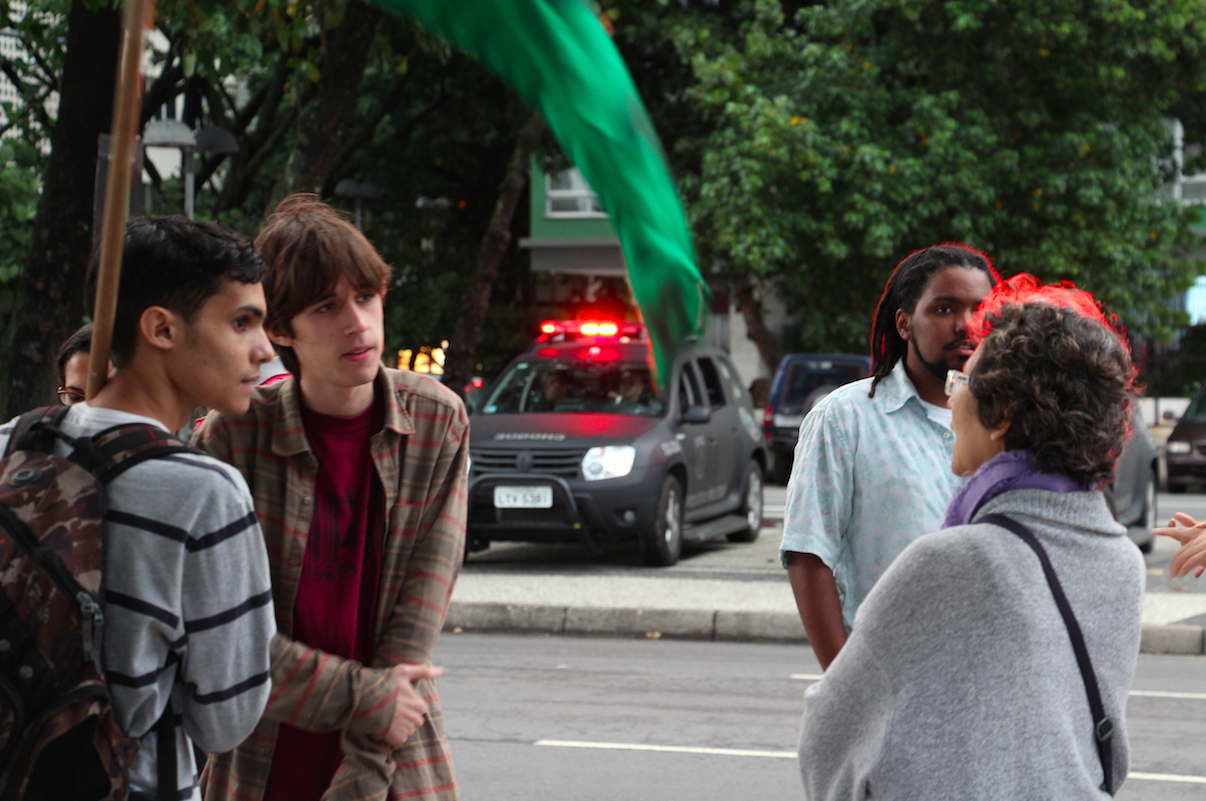 Saturday began with me receiving a message from the Midia NINJA — it was going to be a very busy day, and they needed help covering some of the events going on around the city. I was to cover a protest against Monsanto that began on Copacabana beach at 4:30, but the NINJA wanted me to meet them around 3:00. I took a cab down to the NINJA lair due to time constraints (I woke up late, had to do laundry and cook lunch) and was able to film some more of their apartment. I got some good footage of people getting ready to go out on assignment, and I was able to chat with more of the people there than I had previously.
The day was quite gloomy as the weather hovered somewhere between misting and a steady rain. Isadora and I  walked aggressively through Botafogo to catch a bus for Copacabana. We made it to the location with plenty of time, but no protesters were to be found. Over the next 30 minutes or so, somewhere around 12 people showed up to protest against Monsanto. Maybe it was the weather, maybe the cause doesn't engender the same level of activism as domestic social problems, but whatever it was, this was certainly not the showing I had anticipated for an event the NINJA chose to cover. Still, we talked to some people and filmed  interviews with three protesters who were there, in which they mostly talked about why Monsanto deserved protests.
The most interesting thing about the experience was the show of force from the riot police. Despite having only 12 or so people present throughout the entire hour that I was there, four tactical police vehicles were parked in the median of the divided highway with lights flashing, reminding all the protesters that they were well supervised. It seemed like such an unnecessary threat gesture based on the size and nature of the protest. What did they think the protesters were going to do, vegan them to death?
After filming the interviews, we headed back to the NINJA lair where I hung out and talked to some of their operatives (? – I don't really know what to call someone who works as part of this collective… I'll go with operative for now) for a while. Then I took a cab back to Santa Teresa because I didn't trust the walk from their apartment to the metro with all my equipment after nightfall.
I arrived home safely, logged all of my footage and photos and made some dinner.
Veronica had told me about one of her friend's birthday party that was happening tonight, so we got ready to go out. We each had a shot of absinthe before grabbing a cab, which was a new experience for me. It tastes strikingly like Ouzo, except the licorice flavor isn't quite so pungent.
We went to Bar Bukowski, which is a rock n' roll-themed bar, of sorts. It was weird to me because it felt like a posh American dance club, but all they were playing was 70s and 80s pop rock (apparently this movement is pretty big here). I'm all for that kind of music as my friends will quickly point out, but very few of the songs are imminently danceable… No matter, we made do and had quite the night.
In all, there were eight or nine of us in total out to celebrate.  It was a fun group and most of them spoke English, so I could join in the conversation from time to time
In the beginning, I had trouble getting into the bar because I hadn't brought my ID on account of not having used it once since I've gotten here. Paula, one of Veronica's friends, was able to sweet talk the doorwoman and her staff to let me in anyway, which was both impressive and much appreciated.
The bar was a converted house with a big backyard with what looked like a pool house, all of which had been gutted and turned into one huge bar. There were three different dance areas: one downstairs in what would have been the living room, one upstairs that spanned two prior bedrooms, and outside in the shell of the pool house. Then, there was a huge bar and area for people to sit outside in the courtyard. It was one of the more interesting bars I have ever been to.
Another cool thing about the bar is that you neither paid the cover charge at the door nor paid for any drinks when you ordered them. The bar gives you a punch card when you walk in the door and each bartender writes what you order on the card. Then, at the end of the night, you present your card to the cashier outside the bar and settle everything all at once. It makes it so much easier for the bartenders to service more people efficiently.
We stayed out until 2:30am or so before cabbing it back. This was my first real "clubbing" experience in Rio, and it went off without a hitch.
Sunday was a lazy day. After eating brunch at the house, I lounged around reading a book most of the day. I have been working with the NINJA quite a bit over the last week and it was nice to have a day off.
Today, I woke up late to log some hours to make up for the ones I lost Saturday night and headed down to the NINJA lair. I met another American doing a project on alternative media in Latin America. She's an undergrad at GWU and asked some similar questions to the ones I'll be asking. But, she's looking at it from an anthropological and academic standpoint, whereas I'm focusing much more on the human narrative of the group. No matter, it was nice to meet a compatriot interested in the same stuff as me.
I ate a late lunch in the NINJA apartment, did some filming because there were new faces there and worked on drafting interview questions by themes. I logged some of the NINJA's past footage for use in my film and hung out for a bit before heading home. Tonight, I'll be working and taking it easy. It looks to be a busy week for the NINJA (and by extension, me).
Until next time — adeus!