U-S-A! U-S-A!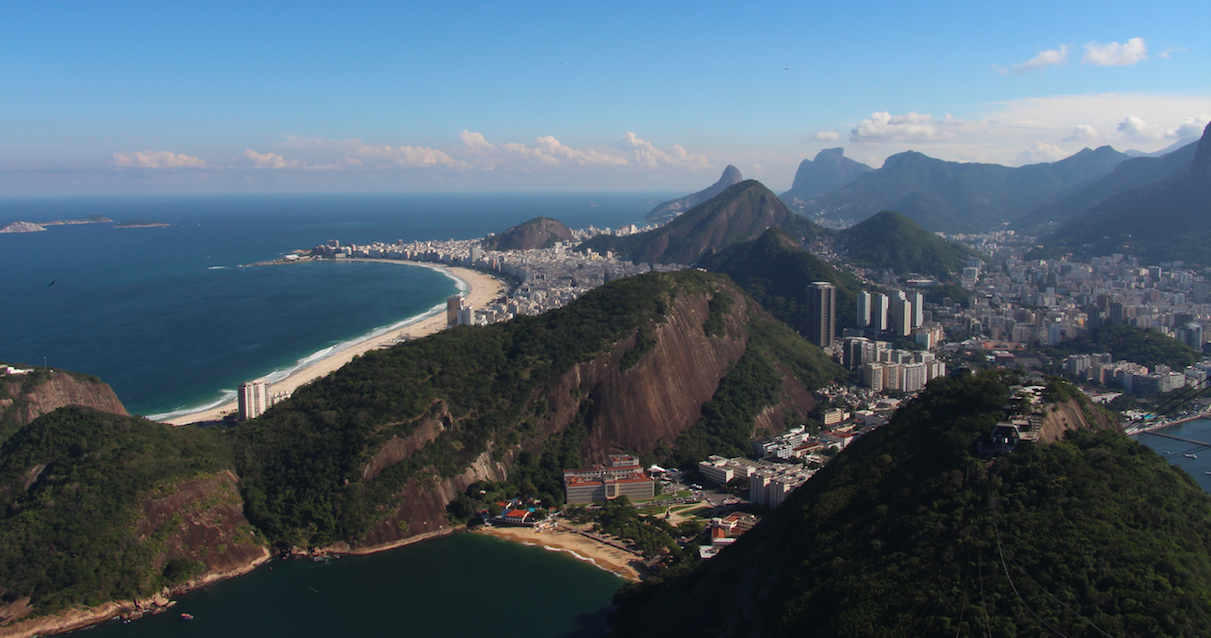 Days are starting to run together…. It's hard to know when one day stopped and the next one began when you're up until 4:30am with your friends every night. It's just soccer and eating amazing food and drinking crappy beer and spending time on the beach and celebrating in Lapa. Rinse. Repeat.
Life is haaaaaaaaaard (should sound like the whiniest voice you can imagine).
So, in no particular order, here are the big things that have happened over the last four days:
Spud, one of the workers at the hostel I stay at, an Argentinian guest and I rented bikes and rode from the hostel all the way down to Copacabana Beach on the beachfront bike path. The scenery was amazing and it really allowed me to get a better view of the city (plus, I needed the exercise). It was a gorgeous day for futbol and Italy v. England was happening that night.
We hung out the entire day (from noon until 9pm or so) at Copacabana Beach. For the first time, I actually went inside the fan fest instead of just watching the screen from the beach and it was everything I hate, all in one place. You had to buy tickets to trade in for beers. The bars' lines were long to say the least, and once you actually got to the bar, it took ages to get someone's attention. I ordered two three-beer combos to save some money on the individual price, but they don't actually give you 6 tickets for beers; they give you two tickets good for three beers each that you have to buy all at the same time, which does me no good because then I'm trying to pound beers before they get hot, which is not what I wanted at all (I ended up having to band together with Spud and just have him give me individual tickets for part of my beer combo, but that's far more complicated than it needs to be). Then, there were cash-only beer pits in the middle of the crowd that you can't see when you walk in and are forced to buy tickets. Those stands only took cash and not tickets —infuriating.
During the England Italy game, trying to walk through the crowd of English hooligans to get to the bathroom was like trying to swim upstream in a river of concrete — it just wasn't happening. You have to barrel your way through the crowd and everyone hates you the entire time. The fans are great and try to move out of your way, but there's just nowhere to go. The fan fest is horribly organized from a crowd flow standpoint. It's as if these jokers have never put on an event involving sports, drinking and bathrooms — truly awful.
There was an awesome band after the England v Italy game, but I was so angry and hungry and bitter by that point, that I simply left to go home.
I ran into the Germans randomly in Gloria — the neighborhood at the bottom of Santa Teresa — and we grabbed a cab up the hill so I could eat some dinner. I showered, they talked me into going out, and we went down to Lapa. again. We ended up just standing on a corner near Bar de Cachaca where I ran into some British guys I had met at the Christ the Redeemer statue and we drank together for the rest of the night. They were a fun group and it was a relatively relaxed night by Lapa standards. The only really noteworthy thing that happened is that when I was hailing a cab back up the mountain (because I'm lazy), I was refused by no kidding 20 cabbies. For some reason cab drivers do not like driving into Santa Teresa. Some claim their cars' engines are too small for the steep switchbacks, or they dislike the pounding their suspension takes on the cobblestones. Whatever the reason, it was a bitch trying to get a cab home that night for some reason.
Two days ago, the main happening of the day was I picked up the USA v Germany ticket I purchased from an American who is here in Rio. Their travel plans changed at the last minute and he wasn't going to the USA v Germany game anymore… So now I have a zone 2 ticket to our game in Recife next week. The notable thing about the interaction of me picking up the tickets from him is that he brought along a friend who was selling his tickets to a different game to another group of Americans. The two sellers decided to have both groups meet them at the same time, and I ended up becoming friends with this group of guys that just finished their MBAs at Berkeley. We exchanged numbers and went on our way. They will come back into play later.
Two nights ago I didn't go out or do anything other than watch soccer at the hostel. Yesterday was the first truly big day of the cup for me — USA v Ghana.
I began the day yesterday meeting the Germans down at their apartment at 11am. We wanted to make sure we go into place early for Germany v. Portugal. Again we were going down to Copacabana Beach to watch the game just outside the fan fest (so we got cheap beer, freedom of movement, the ability to see the ocean and no nonsense from FIFA). The game had huge implications for the USA, and it was important that Germany won and won big.
They did not disappoint. In an epic performance, Germany manhandled Portugal to the tune of 4-0. Christiano Ronaldo's frowny face was one of the best things I've seen in quite a while. Portugal now has 0 points and a -4 goal differential. The Germans and I were ecstatic.
Then came Nigeria v Iran, which we basically just had to sit through in order to keep our badass seats. Over the course of the game, people started clearing out, and I was able to find the Berkeley crew. The first thing they did was hand me a bottle of Johnny Walker Black — MBAs party in style…
We combined our groups, which had swelled to almost 15 people by this point in time. It turns out there's a HUGE American contingent here in Rio at the moment because there were American flags and jerseys everywhere near the fan fest. We had a group of 30+ fans all sitting around us for the start of the game. It was an unbelievable atmosphere to watch a game.
I'm sure most of you watched the game, but if you didn't, Clint Dempsey scored for the US 29 seconds into the game. It was a nasty move to get inside the final defender, then he buried the shot with force — it was a thing of beauty. When he scored, the crowd around us went stark-raving bat shit crazy. Everyone jumped out of their beach chairs into the air, beers were flying all over the place as people picked each other up or hugged. It wasn't the high fives and fist bumps you see at an American Football game… this was all out wrestling standing up. People were jumping up and down, picking each other up, chest bumping as hard as they could… it was nuts.
Over the course of the game, the US defended the lead well. We couldn't maintain possession of the ball to save our lives, but it turned out not to matter until the 82nd minute when Ghana tied it up. It was so disheartening to watch the lead slip away so late. I thought we were headed for a draw, which we simply could not accept if we hoped to advance out of the group stage.
Then Zusi to Brooks happened. The header off the corner kick was emphatic and inspired. It was a beauty to behold and the beach erupted in cheers. If I thought the first goal was rowdy, the last one was riotus. The speed and intensity of the reaction was staggering. My friends tackled me into the sand, and I was zero percent angry. I started leading all the Americans in our national soccer songs (most of which our fans don't know…) and everyone was shouting in unison. I could barely make any sounds because my voice was so hoarse from yelling the entire game. I've never experienced a fan reaction like that before, and I've been to more live sporting events than most anyone I know. It was deafening, messy, painful and none of it mattered. The USA emerged victorious in a truly must-win game.
We immediately headed out to Lapa and burned it down. People were singing in the streets. We had a good-natured shout-off with a monstrous group of Chileans. It was an epic night in the strictest sense of the word. And I'm absolutely drained today. Once again, it just doesn't matter — it was worth every second.
The Yanks are sitting on 3 points and a +1 goal differential compared to Portugal and Ghana's 0, with -4 and -1 point differentials respectively. Now, the game of the tournament for us happens in Manaus on the 22nd against Portugal. We can advance with a draw, but it'll be hard. If we win, we're in… and I'll be there.